Cordray Farms Beef Shares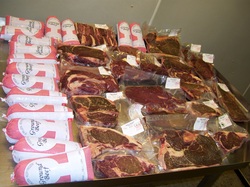 A Beef Share is one cow divided into 8 equal shares, all cut the same way and frozen in vacuum sealed packaging.
Taking reservations now for the 2018 beef season beginning February 2018.
Join our email list
to keep you informed on what's available.
We have three options for buying Cordray Farms Beef!
Jan. 2 to August 14th:
We sell our beef by the Sides (1/2 cattle) or Shares (1/8 cattle). We keep a list of folks who've reserved their beef and we go down the list as we harvest animals. If you'd like to reserve a Beef Share, send in $100. Sides require a $200 deposit.
Contact us
for more information.
August 15 to January 1st:
Stop by our farm store for fresh and frozen beef cuts, summer sausage, beef jerky and more!
Gift Certificates
- Buy a Cordray Farms Gift certificate for a Share or Side or any amount from our farm store. Call 843.766.7922 to purchase one to be mailed to your lucky recipient.
Cordray Farms Beef Shares:
Our CSA plan provides for Beef Shares. A Cordray Farms Beef Share is 1/8 of an animal. A share contains standard cuts of steaks, roasts, stew beef, cube steaks, short ribs and hamburger. A share is approximately 65 - 70 lbs. When packaged and frozen, that's about 2 boxes (shown below). We've chosen this size because this much beef will fit easily in the top of most refrigerator freezers. You can have farm raised all natural beef without having to have a deep freezer!
What do you get in a Beef Share?
Imagine that you and 7 friends want to equally divide a steer. That way, each family gets cuts from all over the animal. You'll get some from the front quarter, like ribeye steaks and chuck roasts, and some from the hind quarter, like TBone steaks and rump roasts. Every share has about 25 lbs. of hamburger packaged in 1.3 lb. packs. We cut all the steaks about 1.25 inches thick and 2 to 3 lb. roasts. Each share is as close to the same as we can make it!
Each share is about 70 - 75 lbs and consists of:
TBone/Porterhouse steaks - 4
Ribeye steaks - 3
Rump roast or sirloin tip roast - 1
Boneless stew - 1 pack about 1 lb.
Short ribs - 2 packs
Round Steak - 3 packs
Cube steak - 1 to 2 packs
Shoulder roast or chuck roasts - 2 or 1 of each
Flat Iron or Mock tender steak - 1
Sirloin steak - 1
Ground beef - 24 to 26 lbs. in 1 1/3 lb packs
Everything comes vacuum sealed and frozen. It will fill a medium size cooler. Beef Shares are $6.65 per lb. .
To reserve your share, send in your $100 deposit to today! Then, we'll call you to let you know when to stop by and pick up the best tasting beef you've ever had.
Send your deposit by check with your telephone number clearly visible to:
Cordray Farms, 6708 County Line Rd., Ravenel, SC 29470
Shares are cut into standard size cuts to help divide shares evenly. If you're looking for custom cut beef, packaged according to your cutting instructions, please consider a
Cordray Farms Beef Side
.
Call us at 843.766.7922 for more information. If you'd like to receive an email keeping you informed about what we have available,
join our email list
.
---